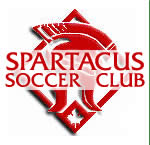 FOUNDED AND RUN BY COACHES
We are a club created by professional coaches and built on a tradition of success. Founded over three decades ago, our first competitive team age group U-21 realized their potential and ended their season as undefeated Ontario Soccer League and Cup Champions. Built on this early success, we began developing our youth programs. Following a careful policy of growing only within our coaching capacity, by 2001 we provided soccer for 450 – 600 players, with House Leagues for ages 5 to 14, a Soccer Academy player-development program, and Rep-teams for Under 6 to Under 18 players.

Spartacus Soccer Club U21 Ontario Champions 1995.

The first Spartacus team to win a provincial championship.

Long experience working with other youth soccer clubs has convinced us that qualified coaching is essential to creating a child-friendly environment. We do not use "volunteer dads" as coaches. All Spartacus coaches, House League and Rep, are paid members of our staff, and we support them in their pursuit of self-development and in acquiring qualifications under CSA/OSA coach certification programs. Most of our Rep coaches are ex-professional or semi-pro players, with many years' coaching experience and high-level coaching certification from Europe and/or the CSA. Good coaches are hard to find, and we welcome inquiries from individuals interested in working in a coaching-driven environment.

WHERE WE PLAY
Our House League plays at C. H. Best school, east and west side of Wilmington, a quarter mile south of Finch Avenue West. Spartacus Rep teams in the North York Soccer Association League play home games at Willowdale Middleschool on Senlac. Our Under 8 to Under 9 Select squads play 7-a-side soccer in the North York League.

Office address for

Spartacus Athletic Association

6 Bradwick Drive,

Concord, ON L4K 2T3

(See map on the left)

 

Tel: (905) 669-5663
Fax: (905) 669-5690
e-mail: clubspartacus@yahoo.ca

Spartacus Soccer Club offers a soccer development program through its subsidiary SPARTACUS ACADEMY.

To learn about the Soccer Academy, please click here.