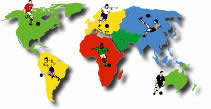 This page is an on-going work in progress. If you have a favourite soccer link, or your own soccer site, that you'd like to list here, email us the web address and we will add it to the directory. If you find a dead link here, please let us know. We welcome link exchanges with other soccer clubs around the world. Email all links information to: club@spartacussoccer.ca



Soccer organizations
http://www.fifa.com/index.html
• Official site of soccer's world governing body. Laws of the Game, World Cup, history, etc.

http://www.canoe.com.SoccerCanada/home.html
• Canadian Soccer Association.

http://www.soccernet.on.ca
• Ontario Soccer Association

http://www.coach.ca
• Coaching Association of Canada. Coach Certification, seminars, wealth of pan-sport info.

http://members.home.net/ontsra
• Ontario Soccer Referees Association.

http://www.cslsocccer.com
• Central Soccer League. Results, standings, schedules, etc.

http://www.geocities.com/nys12002/nysl.html
• North York Soccer League. House League Selects competition, run by NYSA.

http://www.yrsa.org/
• York Region Soccer Association. Results, standings, schedules, news, etc.

Soccer news and information
http://www.soccernet.com
• Up-to-date English, Scottish, European and world soccer news.

http://www.womensoccer.com
• Excellent site dedicated to women's soccer.

http://home.eol.ca/~robing
• News of the local pro and semi-pro scene in Ontario, maintained by fan Robin Glover.

http://www.lacancha.com
• Good on-line soccer magazine. Articles on soccer around the world.

http//espnet.sportszone.com/soccer/
• Great site for up-to-the-minute world news. On-line commentary of big games.

http://sports.yahoo.com/m/world/
• Another first-class soccer news site.

http://www.italian-soccer.com/
• Complete, up-to-date coverage of all aspects of the Italian game.

Coaching
http://www.geocities.com/colosseum/1226/home
• Coach Ric Miller's "Game behind the game". Serious coaching site. Excellent!

http://www.nhsoccer.com/nhsa/jpill/
• "Pill's Drills". Good selection of drills for all ages.

http://www.decatursports.com/soccer.htm
• One of the best web sources for drills, articles and soccer discussion.

Various soccer sites
http://www.soccerpatch.com/
• Interesting site dedicated to soccer club "patches" or crests.

http://www.toronto.com/thehangar
• Local indoor facility where our Rep teams play. Good site… but usually weeks out of date.

http://www.soccersearch.com
• Soccer history, stats, world leagues/clubs, soccer computer games, much more.

http://www.soccer-links.com
• Comprehensive soccer search-engine site.

http://www.soccersources.com
• Another good soccer-search site.

Youth soccer clubs and teams
http://canadakicks.com/youth.htm
• Links to Canadian youth soccer clubs.